Nexternal's DropShip Module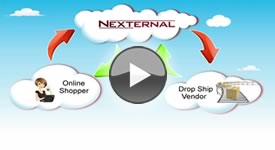 1 minute, 14 seconds
Automatically Email Drop Ship Vendors Relevant Order Line Items & Ship To Addresses
Drop Ship Vendors Update Line Item Status with Tracking Numbers Through Web Portal
Calculate Shipping Accurately using Nexternal's Multiple Ship From Feature
Drop shipping is the process by which a customer places an order via a retailer only to have the purchased goods sent directly from another company such as a wholesaler or manufacturer. Nexternal Solutions has incorporated a DropShip Module into its e-commerce software to make the notification process automatic for both the retailer and drop ship vendor. This creates significant efficiency for both parties
Through the Nexternal Order Management System, merchants can define a vendor as being a "drop ship" vendor. When a Nexternal merchant has the drop ship functionality activated, the drop shipping company automatically receives an email notifying them of the products that need to be shipped along with the relevant shipping address. Merchants can log in to a vendor specific Order Retrieval & Update System where they can mark line items as shipped and supply tracking numbers. The entered tracking information is then available to both the customer and retailer.
Nexternal's shopping cart software uses email tracking codes so that retailers can see whether or not a drop ship email has been viewed by the drop ship vendor. Should there be a problem with the vendors email, merchants can kick off an additional email to the drop ship vendor with the appropriate line item and shipping information. All notification emails are logged with a date and time stamp made available for the retailers.
There are a plethora of configuration options available to merchants so that their drop ship program can run as best they see fit. For example, the merchant can determine what event triggers an email to the drop ship vendor. Such events include when the order is placed, when its status is marked as paid, or when its status is marked as "in process." Merchants can also opt to trigger all emails manually with the simple click of a button. Merchants may customize the text in the email that goes to the vendor.
Using this module, merchants no longer need to manually notify their drop ship merchants of orders they need processed. They also do not need to follow up with the drop ship vendors because they can update the order status themselves. The DropShip Module creates a win-win situation for both the merchant and drop ship vendor.
If you are interested in learning more about how your company can utilize Nexternal's DropShip Module, please call 800-914-6161.