Expand Your Customer Base & Increase Brand Loyalty
with Powerful Marketing Tools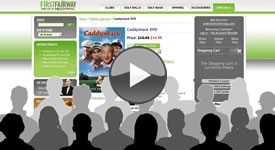 Drive More Traffic to Your Online Store
2 minutes 37 seconds
"We've increased our online sales volume 50 fold with the help of Nexternal. The order management system deployed quickly and gave us a world-class infrastructure to grow our business. Due to the success of a viral marketing campaign, our online orders literally skyrocketed from 6 per day to 106 per day overnight. Since that time we have had days where we've taken and processed more than 1800 orders through the system - something that would not have been possible with our past eCommerce solution."
Dan Green -
Simple Truths
Increase Organic Traffic with Search Engine Optimized Product & Category Pages
Creating optimized product and category pages that rank well in the organic search engine listings is a sure fire way to get more visitors into your online store. Nexternal uses proven search engine optimization methods with its search engine friendly shopping cart. Organic search engine traffic is free and tends to have a very high conversion rate.
Let Your Customers Promote Your Brand via Social Media
Facebook and Twitter Order Sharing - Your customers can easily opt to share their purchases on both Facebook and Twitter by clicking these social media buttons. This is one of the best ways for your customers to promote your online store.
Facebook and Twitter Coupon Sharing - If you are feeling generous, you can make it easy for customers to share your coupon codes on both Facebook and Twitter. Customers love introducing each other to deals, so why not make it as easy as possible. See it in action.
Facebook® Like - This button allows your customers to instantly "like" any of your products in Facebook. It also displays the total number of people who have "liked" the product and optionally the faces of any friends of the customer who have "liked" the product.
Tweet Button - This button makes it simple for your customers to tweet about any of your products. By default the tweet includes a short version of the product URL so followers can easily get to your site. It optionally displays the total number of people who have tweeted the product and optionally includes your company's twitter name (@YourCompanyName). The product markup also supports Twitter Product Cards which include the product price, category, and product image. See it in action.
Google Plus - By clicking on this button, your customers can recommend your products to their chosen Google circles of associates and friends. This data is also being used in Google's search engine algorithms, giving you more search engine power. See it in action.
Pinterest - Our newest social media tool! The Pin button allows shoppers to pin your products to their pin boards, to be viewed by the shoppers' friends and followers, and Pinterest members and non-members alike. In Pinterest, when a user clicks on your product's image, it will drive them back to the product's detail page of your shopping cart. The markup on Nexternal product pages allows for Rich Pins so that pricing and availability can also be displayed on Pinterest. See it in action.
Schedule Emails to Targeted Customer Lists
Not all customers are new visitors to your site. It is important to send targeted emails to existing customers to entice them to come back and order again. Nexternal's bulk mail wizard includes a powerful query tool that can make this happen.
Reward Those That Send Orders Your Way with an Integrated Affiliate Program
Using affiliates to drive traffic to your site can be a powerful way to market your products. Typically affiliates only make money if you do. Nexternal's shopping cart software has an integrated affiliate tool that tracks sales from affiliates.
Syndicate Your Product Data with Automated Daily Marketplace Feeds
Nexternal's software also creates data feeds for many online marketplaces including Amazon Product Ads, Google Product Search, Yahoo Shopping, Shopzilla, NexTag, PriceGrabber, TheFind, and Shopping.com. You can have Nexternal's software automatically send these marketplaces fresh product data every night. Online comparison shopping sites are a popular starting point for many online shoppers. Listing your products in these channels is yet one more way Nexternal makes it easy for you to increase traffic.
To learn more about marketing features, please give us a call at 800-914-6161.