Nexternal's Intelligent Currency Converter
Our eCommerce Platform is integrated with the Open Exchange Rates to automatically determine each visitor's native currency (based on IP Address) when they enter your store. Customers are also able to select the currency of their choice. This feature is a powerful conversion tool for merchants who already ship internationally, as it simplifies the shopping and checkout process for applicable customers. In some cases, it's even a deciding factor for retailers who have never shipped overseas before to expand.
Currency Exchange Rates Automatically Updated Daily
Customer's Native Currency is Determined by IP Address
Customers Can Change/Choose Their Currency
Support for 165 Currencies
Applicable Currency Can Be Used on Invoices and Packing Slips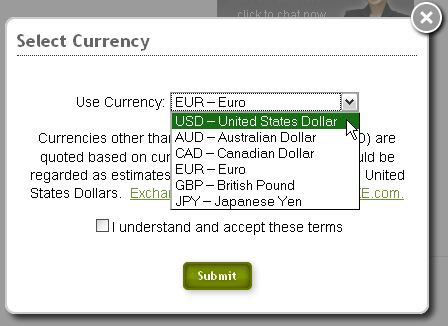 If you are interested in learning more about how our ecommerce software incorporates a currency converter please call 800-914-6161.