Business to Consumer Shopping Cart
"Everything with the shopping cart is wonderful! Ease of use is incredible, stability is exceptional, the functions are great...there isn't much else we could want in a system! Customer feedback has been wonderful - all our old customers love the new system so much more than the old one, and now nobody has to write or call saying that they can't figure out how to complete an order."
Ryan Wilson -
Vegan Essesntials
Our Business to Consumer (B2C) shopping cart was built with a focus on usability and provides the best shopping experience possible. Our technology reduces shopping cart abandonment and yields a high visitor/order conversion rate. Results of this technology are best illustrated by merchant testimonials.
Benefits of our B2C shopping cart software include: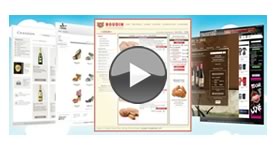 2 minutes 55 seconds
Suggestive Search
Defined Payment Options by Customer Type
Upselling Tools (Dynamic Cart Footer Messaging, Upsell Overlay)
Social Media Marketing Components (Facebook Like, Twitter Tweet, and Tell a Friend)
You are about to visit FirstFairway.com, a fictitious online golf retailer. Although only golf clubs and accessories are sold here, virtually anything can be sold with the Nexternal eCommerce Platform. At FirstFairway you will see an example of how our software can integrate with your website and witness all of the benefits listed above. After you have completed looking at the store and placing a sample order, please visit the Order Management System to see the full toolset provided to merchants.
Start the Demo