TrueCommerce Connect
Easily Integrate your eCommerce Platform with:
ERP Software
Accounting Systems
EDI Networks
"The ability to integrate eCommerce with our ERP system was the key factor in our decision to move to Nexternal."
Scott Noyes -
CE Smith Company
TrueCommerce Connect offers an automated, efficient, and cost effective method of sending your Nexternal order data into your business management system. This technology pushes all of your Nexternal orders into the TrueCommerce network, and then allows the data to flow smoothly and securely into the ERP or accounting system of your choice.
TrueCommerce Connect joins Nexternal with the TrueCommerce platform, and includes a business system plug-in that provides the integration between your Nexternal eCommerce site and your backend business system. It also includes ongoing updates to keep you compatible with new software releases from Nexternal, as well as your accounting system publisher. Service also includes free, US-based support.
TrueCommerce Connect works with the following business and accounting systems:
Harnessing the Power of TrueCommerce Connect:
Accelerate order fulfillment by completely automating the exchange of data into your accounting or ERP system (e.g. QuickBooks, Microsoft Dynamics, Sage, NetSuite, SAP Business One, and others)
Protect the accuracy of your orders, by locking the data, once they have been pulled into your business software
Define an order status trigger that is appropriate for your particular business (Paid, Placed, In Process, Fulfilled, and more)
Track order status updates, and modifications, back into your Nexternal Order Management System as needed (e.g. ship dates, tracking numbers, quantity changes, and price changes)
Leverage the TrueCommerce network to expand your reach to thousands of customers, who may require EDI compliance, when you add TrueCommerce EDI:
o Equips your company with the tools to sell to retailers and distributors of all sizes
o Provides unlimited, US-based support from a single vendor for your eCommerce and EDI needs o Allows you to switch your business system without changing your entire EDI or eCommerce platform -- giving you the flexibility you need as your business needs change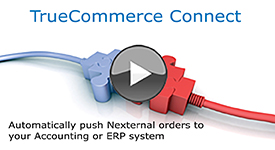 TrueCommerce Connect Webinar
Video Recording - 55 minutes
Interested in a one on one demo of TrueCommerce Connect? Call us at 888-430-4489.