Nexternal
vs.
WebStore by Amazon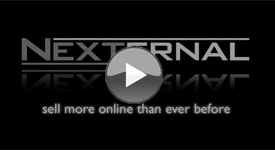 Nexternal Overview
1 minute 49 seconds
Nexternal is a complete eCommerce platform providing you with hosted shopping cart software and the tools you need to reduce your order fulfillment overhead. The video to the left will give you an overview of the always-on-screen shopping cart, social media tools, product suggestions, anytime shipping/tax calculator, quick checkout, and automatic order confirmation email.
Nexternal
WebStore
Dedicated Account Manager



Watch the Video

Yes. Dedicated customer service rep. Unlimited support.
No dedicated rep. Help documents, email, knowledge center, request a call back.
Store Design Flexibility



Watch the Video

Very flexible. Nexternal will make your store look like the rest of your site.
Have to work within their Template Manager.
Create Shipping Labels?



Watch the Video

Yes.
No.
Dashboard



Watch the Video

Yes.
No.
Always Onscreen Shopping Cart



Watch the Video

Yes.
No.
Drop Ship Feature



Watch the Video

Yes.
No.
Social Commerce
(Tipping Point Sales)



Watch the Video

Yes.
No.
Preferred Delivery Date



Watch the Video

Yes.
No.
Turnkey Salesforce.com Integration



Watch the Video

Yes.
No.
MailChimp Integration



Watch the Video

Yes.
No.
Supports Multiple In Store Pickup Locations



Watch the Video

Yes.
No.
QuickBooks Integration
Order data can be exported to a QuickBooks .iif file.
Not Available.
Dashboard Plus for iPhone/iPad
Yes.
iOS Dashboard app not available.
Avalara Tax Service Integration
Yes. Pull Avalara Tax Rates. Have Avalara submit taxes.
Not available.
Reporting
Robust. Significant reporting capability.
No.
XML Tools
Yes.
No.
Bulk Email Wizard
Yes.
No. Passes to Constant Contact.
Affiliate Program
Yes.
No.
eGift Certificates
Yes.
No.
Comparison Shopping Site Feeds
Automated - run daily.
Must manually create and submit data files.
Customer Types
Yes.
No.
Customer Based Pricing
Yes.
No.
B2B Application
Yes.
No.
Product Import
Yes. Import Data from an Excel spreadsheet
No.
Bulk Order Processing
Yes.
No.
Customer Select Preferred Delivery Date
Yes.
No.
Direct Checkout
Yes.
No.
This comparison is produced and hosted by Nexternal.
Information was collected from Amazon's website (webstore.amazon.com) in order to compare it to Nexternal's shopping cart application. To report an error or discrepancy, please email .