Nexternal's Shopping Cart Software is Equipped with an Always On-Screen Shopping Cart, Helping Increase Conversion by:
Eliminating Confusion,
The customer can see what is in their shopping cart at all times during the ordering process, eliminating confusion and adding comfort.
The customer can modify the contents of the shopping cart at all times.
Every product within the shopping cart is a hyperlink back to the relevant product detail screen. Should a customer forget the details of an item they can easily link to the product page.
Clearly Presenting all Fees (Including Shipping and Tax) Before Checkout,
Within the always on-screen shopping cart, customers have the option of calculating shipping and sales tax at any time. This provides great convenience and reduces abandonment.
Highlighting Discounts and Sales,
When products are on sale or coupons are used, savings are highlighted in the shopping cart making customers feel even better about making a purchase. Customers can also enter coupons at any time.
Nexternal's shopping cart supports dynamic cart messaging, providing for crafty upsell opportunities.
Offering Customer-Friendly Options for Orders Going to Multiple Locations, and
Nexternal's shopping cart software supports a multiple ship to scenario. Customers can build separate shopping carts for each ship to location.
Merchants can also offer an in-store pickup for consumers that would like to order online, but pickup their order in a physical store.
Saving Time
When an item is added to the shopping cart, only the shopping cart refreshes - not the entire screen. This provides a faster response and eliminates confusion. Most shopping carts take customers to a separate screen and have the customer click continue. Often times then the customer does not know where they are being directed which creates shopper frustration.
Nexternal's shopping cart software retains the contents of the customer's cart for up to one month. If a customer begins shopping at a merchant's online store and gets interrupted, they can return within 30 days and still see the contents of their cart.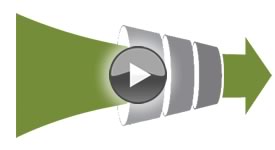 Always on-screen Cart Video
48 seconds
"With Nexternal, Sage Products has increased its eCommerce business 41% over the previous year. We constantly hear from our customers how easy the site is to use and that is why they keep coming back to order with us."
John Jordan -
Sage Products
Nexternal's always on-screen shopping cart not only increases customer conversion, its simplicity leads to larger orders. To see the shopping cart in action, visit Nexternal's eCommerce platform demo.
If you are interested in learning more about how your company can utilize Nexternal's shopping cart software, please call 800-914-6161.