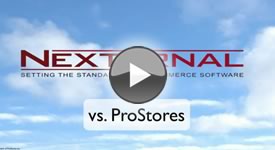 3 Reasons Merchants Upgrade
1 minute, 34 seconds
"Since we have switched from Prostores to Nexternal, our direct monthly sales increased by 34%. Some months are even better. Nexternal is always keeping us updated on new features to help grow our business. I am very lucky to have found Nexternal. I strongly encourage others to follow in our footsteps and give Nexternal a try, you won't be disappointed."
Charlene Redd -
Keepsake Imprints
"This is just a quick note of commendation and referral for you and Nexternal. We have been with you long enough now to notice the differences of your system as compared to Prostores, who we were with for 5 years. What we noticed from ProStores in concise short and sweet language; "Well it doesn't do that, so we must do ..... this". What we have noticed from Nexternal in the same short and sweet talk; "Wow, it'll do this and that for us?" I can't thank you enough for a great ecommerce solution that will enable us to grow into the future. I can't tell you the appreciation we have."
Ross Hardie -
InkJetCarts
Criteria
Nexternal
ProStores
Dedicated Account Manager



Watch the Video

Yes. Unlimited free customer support.
No. Forums, email, and telephone support (not dedicated).
Store Design Flexibility



Watch the Video

Very flexible.
Limited.
Amazon Marketplace Integration



Watch the Video

Yes. Sell products on Amazon.com. Automatically pull orders into Nexternal.
No.
Product Image Zoom



Watch the Video

Yes. The zoom works well on both traditional and tablet computers.
Not available.
Create Shipping Labels?



Watch the Video

Yes. Shipping label creation and tracking with all major carriers.
No. Import and export only.
Dashboard



Watch the Video

Yes.
No.
Always Onscreen Shopping Cart



Watch the Video

Yes.
No.
Mobile Commerce



Watch the Video

Yes. Mobile Friendly Catalog & Checkout.
Available Through 3rd Party Add-on.
Social Commerce (Tipping Point Sales)



Watch the Video

Yes.
No.
Turnkey Salesforce.com Integration



Watch the Video

Yes.
No.
Drop Ship Feature



Watch the Video

Yes.
Enterprise package only.
MailChimp Integration



Watch the Video

Yes.
No.
Supports Multiple In Store Pickup Locations



Watch the Video

Yes.
No.
Subscription Management
(Recurring Orders)



Watch the Video

Yes, Recurring Orders.
Only Recurring Billing.
Quote Generation and Activation
Yes.
No.
Dashboard Plus for iPhone/iPad
Yes.
iOS Dashboard app not available.
Trust Guard
Yes. Scanned daily. Merchants can display badge.
No. Not included.
Bulk Email Wizard
Included.
Add-on feature with fees.
Storage Limits
None.
Yes. 20 GB max for enterprise plan.
Reporting
Robust.
Limited.
Images
Supports image gallery.
Max of 2 images per product.
Bandwidth Limits
No.
Yes.
Free Live Training
Yes.
No. Forums and manual only.
XML Capabilities
Yes.
No.
QuickBooks Integration
Yes.
No. CSV export only.
Affiliate Support
Yes.
Enterprise package only.
eGift Certificates
Yes.
No.
Direct Checkout
Yes.
No.
Customer Based Pricing
Yes.
Enterprise package only.
"Wow! I have never used an order processing system that is as user-friendly. I have been continually amazed at the capabilities of Nexternal's system. I have always dreaded the task of managing our product catalog for our website but since upgrading to Nexternal, I have found myself completely willing to tackle it. Nexternal's system has most definitely simplified our product marketing updates and even made it enjoyable for our product manager.

It took no time at all for us to begin to receive positive and encouraging comments about our checkout process. Comments about everything from the visual appeal of our new shopping cart to the ease of completing the checkout process. From our perspective as the retailers, I have really enjoyed the functionality of the shopping cart and seemingly endless marketing possibilities of it. Thank you for such as refreshing concept in E-commerce shopping carts.

Our Customer Service Representative has been extremely responsive, as well as, a tremendous help in assisting us through the difficult task of transitioning our entire product catalog. I am absolutely in love with the concept that I can call my assigned Customer Service Representative and speak with the same person each and every time without having to explain any ongoing situations or details. It is terrific to have that one point of contact and not have to attempt to navigate our way through an entire customer service department every time we have a question or request.

We have had a 25 - 30% increase in completed orders. From initial data, it seems that we have a far greater conversion rate than we did with our previous shopping cart provider."
Adam McPherson -
Pure Hearts & Clean Hands Soap Co.