Nexternal
vs.
MIVA Merchant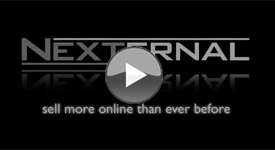 Nexternal Overview
1 minute 49 seconds
"The feedback so far has been that our new Nexternal store is much easier to navigate through than our old Miva Merchant one."
Pat Baker -
SaratogaSupplements.com
Nexternal
Miva Merchant
Dedicated Account Manager



Watch the Video

Yes. Dedicated Account Manager. Unlimited support.
Free email and help desk support. Monthly fee for upper tier support.
Single Database iPad Point of Sale (POS))

Yes, using ourTrueCommerce Engage ($) app
No.
Amazon Marketplace Integration



Watch the Video

Yes. Sell products on Amazon.com. Automatically pull orders into Nexternal.
No.
Create Shipping Labels?



Watch the Video

Yes. Create UPS, FedEx, USPS, or DHL Labels from Order Management System.
Yes.
Dashboard



Watch the Video

Yes.
Yes.
Uses Rich Snippets on Product Pages



Watch the Video

Yes. Conforms with Schema.org Product Format.
Can be implemented.
Turnkey Salesforce.com Integration



Watch the Video

Yes.
No.
Product Image Zoom



Watch the Video

Yes. The zoom works well on both traditional and tablet computers.
Not available.
Social Commerce (Tipping Point Sales)



Watch the Video

Yes.
No.
MailChimp Integration



Watch the Video

Yes.
Yes .
Mobile Commerce



Watch the Video

Yes. Mobile Friendly Catalog & Checkout at no additional cost.
Yes. Free DIY or pay $699 to have MIVA Implement it.
Integration Capabilities



Watch the Video

10 XML tools available.
API offered in version 5.5.
Supports Multiple In Store Pickup Locations



Watch the Video

Yes.
No stock feature, custom methods / work around.
Subscription Management
(Recurring Orders)



Watch the Video

Yes.
No.
Quote Generation and Activation
Yes.
No.
Setup
Turnkey.
Technical.
Multiple Ship To
Customers can place one orders and ship items to multiple locations.
Miva Merchant does not support multiple ship to locations.
Dashboard Plus for iPhone/iPad
Yes.
iOS Dashboard app not available.
Automated Review Reminders
Yes.
Must purchase add-on module.
eGift Certificates.
Included.
Add-on module.
IP Address blocking, Security Level by Country.
Included.
No.
Customer Selects Preferred Delivery Date (Integrates With Shipping Carrier Time In Transit).
Included.
No.
Electronic Customs Documents in International Shipments
Included.
No.
Bulk Email Wizard
Included.
Extra service.
QuickBooks Integration
Included.
Add-on module.
Comparison Shopping Marketplace Feeds
Generated and uploaded automatically every day.
Add-on module, no auto feed.
Free Trial Available.
Yes, 15 day free trial.
No.
Miva Merchant is a Trademark of Miva Merchant.
This comparison is produced and hosted by Nexternal.
Information was collected from Miva Merchant's website (www.mivamerchant.com) in order to compare it to Nexternal's eCommerce platform. To report an error or discrepancy, please email .