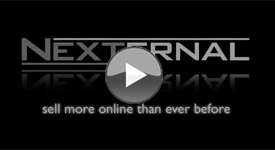 Nexternal Overview
1 minute 49 seconds
Pyrenees Upgraded from UberCart to Nexternal

"The Order Management System is well thought out. It can do just about anything you can think of. I also found the ordering process simple and easy to follow. The customer service has been fantastic. Every time I have a question it is answered quickly and is fully explained. I really like having a single point of contact. Nexternal provides great customer service. Thank you. "
Danielle Peters -
Pyrenees Vineyard and Cellars
Nexternal
UberCart
Dedicated Account Manager



Watch the Video

Yes. Dedicated Nexternal Account Manager. Unlimited support.
No. Support Forums.
Mobile Commerce



Watch the Video

Yes. Mobile Friendly Catalog & Checkout.
No.
Amazon Marketplace Integration



Watch the Video

Yes. Sell products on Amazon.com. Automatically pull orders into Nexternal.
No.
Uses Rich Snippets on Product Pages



Watch the Video

Yes.
No.
Product Image Zoom



Watch the Video

Yes. The zoom works well on both traditional and tablet computers.
Not available.
Always Onscreen Shopping Cart



Watch the Video

Yes.
No.
Drop Ship Feature



Watch the Video

Yes. Complete drop-ship automation capabilities.
Yes.
Turnkey Salesforce.com Integration



Watch the Video

Yes.
No.
Social Commerce
(Tipping Point Sales)



Watch the Video

Yes.
No.
Preferred Delivery Date



Watch the Video

Yes.
Add-on module.
MailChimp Integration



Watch the Video

Yes.
Yes.
Integration Capabilities



Watch the Video

10 XML Tools Available.
No XML tools included. Some XML import add-ons available for purchase.
Subscription Management
(Recurring Orders)



Watch the Video

Yes.
Module.
Quote Generation and Activation
Yes.
No.
Dashboard Plus for iPhone/iPad
Yes.
iOS Dashboard app not available.
Software Updates
Free and automatic.
Merchant's responsibility to install. Certain modules built to certain releases, so may cause incompatibility.
Marketplace Feeds
Automated - run daily. (Google Merchant Center, Shopzilla, Pricegrabber, etc.)
Manual.
Multiple Ship To
Customers can place one order and ship items to multiple locations.
UberCart does not support multiple ship to locations.
Supports In Store Pickup
Yes.
Add On Module.
Automated Review Reminders
Yes.
No.
Inventory Kits/Product Bundles
Supported.
Supported.
Dynamic Cart Messaging
Yes. Message in shopping cart can change based on price or number of items to encourage upsell.
No.
Load Balancing
Yes. Nexternal uses a large network of servers.
No. Software sites on one server.
McAfee Secure Badge
Yes. Nexternal's network is scanned daily.
Not included.
Security Certificate
Included/Installed.
Must purchase and install.
Reliability
Nexternal hosts and maintains the application with 24/7 monitoring.
UberCart is hosted by a third party. Reliability varies. No built in monitoring.
Back In Stock Notifications
Yes. Automatically emails customer when backordered products are instock.
Add-on Module.
This comparison is produced and hosted by Nexternal.
The Ubercart comparison information on this page was believed to be correct as of . Information was collected from Ubercart's website (www.ubercart.org) in order to compare it to Nexternal's shopping cart application. To report an error or discrepancy, please email .